New Pictures and Ads
Here are some pictures from Calenderlive.com which is part of the LATimes. Rachel Abramowitz wrote up a piece about holiday movie sneak previews. There were also some new photos that accompanied the article.

Here's an excerpt of the article with pictures:

Tonight is the second to last night of shooting, and this is the moment when Hudson will be doing her pivotal song after her character, Effie, learns she's getting pushed out of the girl group by her manager and lover. Effie declares, "I'm telling you, I'm not going," and the filmmakers plan on dissolving from Effie's lament into the new Dreams — sans Effie — striding out on stage singing a snippet of the song "Love Love Me Baby."



"Bam, there's a new group in not even a blink of the eye," says Mark. "It's our version of special effects without really doing special effects."This key moment shoots late in the schedule because "we wanted to give her as much time as possible to find her sea legs and get confident," Mark says.



As the camera crew sets up, Hudson floats through in a pink sweatshirt, carrying a video camera. She tells one of the cast members that she's recording the experience for herself because she doesn't want to forget.


To read the full article click here.

Here are some new ads that people sent to me. The first one is is a full page ad for the Ziegfield Theatre advertising the road show. The second one is a 'For Your Consideration' ad for The Hollywood Reporter.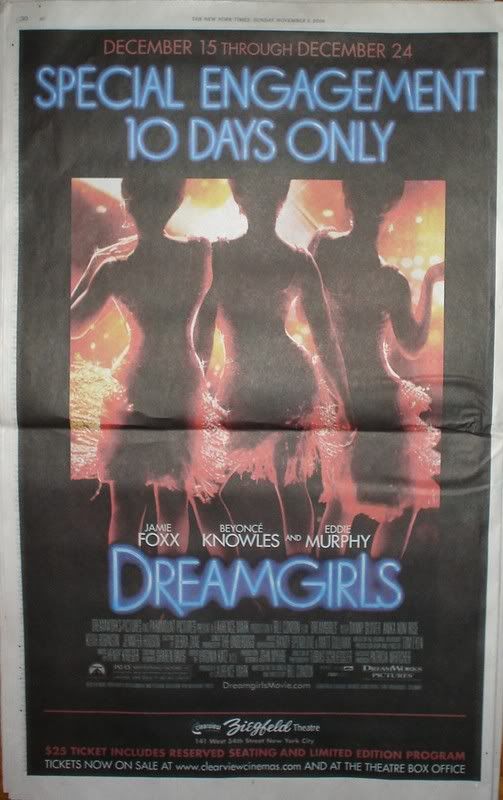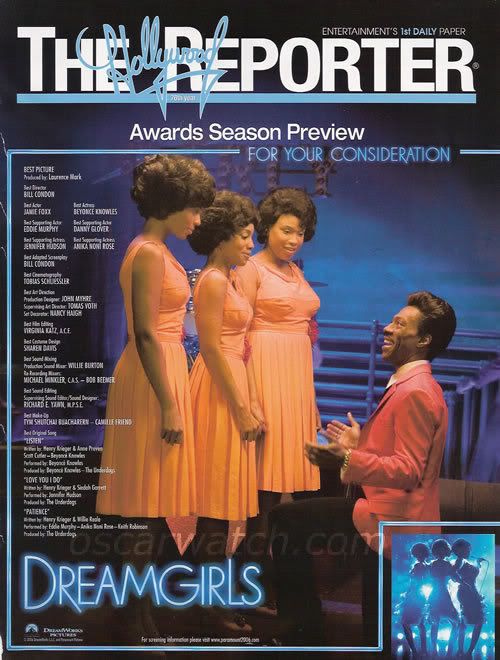 Source: Thanks Dreamguy and B.